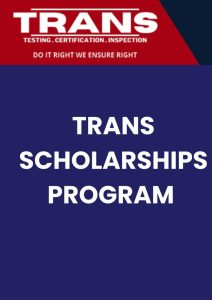 Trans Certification for the first time will offers scholarships to high-achieving young malaysian who are studying or have gained a plance at any Malaysian Public University.
While undergoing tertiary education, scholar's academic performance are monitored.
CRITERIA/ELIGIBILITY
Must be a Malaysian Citizen;
For first degree education level only
Minimum 3.00 CGPA of STPM/Diploma/matriculation level
Active participation in extracurricular activities;
Obtained confirmed placement from Malaysia Public University
Not bonded, holding any other scholarships or receiving assistance from any organisation;
Total combine family's income is NOT more than RM 4000
SCHOLARSHIPS VALUE
Successful applicants are provided with 100% Academic fee and RM900 monthly allowance over the minimum duration of their course.
How To apply
Interested applicants are to fill up the following application form, scan and email to info@transcert.com.my together with:
Copy Identity card
University offer letter
Result of Matriculation, STPM, Diploma
Proof of family income
Copy of Resume
Closing Date 1 November 2022
For more information please contact our office:
Trans Certification International Sdn Bhd
B30 Level 1 Jalan IM2/5,
Bandar Indera Mahkota,
25150 Kuantan, Pahang.
Phone: 09-5751333
www.transcert.com.my
Email: info@transcert.com.my